News
We are rolling along well. Six neighbors – 1 new – signed in at our January 20 meeting and 12 – 8 new! – on the 24th! Already several have volunteered to undertake leadership responsibilities as we move forward, and we could not be more optimistic. Please come out and join them.
Next steps: February meetings. As much as we dislike scheduling something on anyone's religious observance day, Lovett scheduling leaves us little choice, so the next evening meeting will be Wednesday February 14 (Christian Ash Wednesday) [as well as Valentine's Day!].  7:30 p.m.  Our next Saturday meeting will be on February 17 at 10:30 a.m.
Please keep Wednesday evening March 14 circled on your calendars (or whatever you do on a smartphone!) for our annual Founders Month program with architectural critic Inga Saffron.
Each year Free Library Friends have come together to do advocacy for the Free Library's budget. We have often started later, but February is when most of the budget decisions are made.  We are a bit concerned about the coming budget cycle and want to make sure that we are rallying folks from the very beginning. We will start very positive, reminding elected officials of the importance and impact of the library. We are starting by doing a letter writing campaign to the Mayor and Managing Director in order to let them know that the library has touched a great many lives and make sure that they are hearing about the important work every library staff person is (and Friends are) doing.
Here is what everyone can do in February:  write a letter to both the Mayor and Managing Director (if you have time, council members as well) and ask your friends, family, and neighbors to write letters. Letters and drawings from all ages are encouraged.  We are advised that physical letters will have more impact than e-mails, perhaps even handwritten letters, but typed works as well. You might say "I love my library because…" or  "The library is important to the neighborhood/community because…" or "I come to the library to…"  or  "Fully funding the library helps support these programs . . " or "Please make sure that you keep this in mind as you are planning your budget" or "Please make sure that you fully fund the library" or "The library needs to be fully funded so that it can continue this great work."  Those sorts of things.  Here are contacts:
James Kenney
Office of the Mayor
City Hall, Office 215
Philadelphia, PA, 19107
Phone:(215) 686-2181
Michael DiBerardinis, Managing Director
Municipal Services Building, 1430
1401 J.F. Kennedy Blvd, 14th Floor
Philadelphia, PA 19102
City Council 
District 8
CINDY BASS
City Hall, Room 312
Philadelphia, PA 19107-3290
(215) 686-3424, (215) 686-3425
At Large City Council Members:
BLONDELL REYNOLDS BROWN
City Hall, Room 581
Philadelphia, PA 19107
(215) 686-3438, (215) 686-3439
ALLAN DOMB
City Hall, Room 316
Philadelphia, PA 19107
(215) 686-3414, (215) 686-3415
DEREK GREEN
City Hall, Room 594
Philadelphia, PA 19107-3290
(215) 686-3450, (215) 686-3451
WILLIAM K. GREENLEE
City Hall, Room 508
Philadelphia, PA 19107-3290
(215) 686-3446, (215) 686-3447
HELEN GYM
City Hall, Room 592
Philadelphia, PA 19107-3290
(215) 686-3420, (215) 686-3421
DAVID OH
City Hall, Room 319
Philadelphia, PA 19107-3290
(215) 686-3452 (215) 686-3453
AL TAUBENBERGER
City Hall, Room 582/586
Philadelphia, PA 19107-3290
(215) 686-3440, (215) 686-3441
As always, please feel free to send along any reactions, thoughts, hopes & dreams for Lovett and its Friends to us at lovettfriends@gmail.com.
Thank you!
The grand celebration of Lovett's re-opening is scheduled for Saturday, December 16, 2017 at 11 a.m.!
There will be a ribbon cutting, followed by the rededication of the new WWI plaque.
Of course, there will be refreshments, which the Friends will be providing. Anyone who is willing to assist can contact the Friends <lovettfriends@gmail.com> and we'll go from there figuring out just what we'll do and how and who. We want to be festive!!
On August 30, Treasurer Irv Miller and I were treated to a tour of the renovation/expansion project.  Although it appears that we are at least 2 1/2  months from resumption of public service, the work product so far looks really nice.  EVERYTHING is new:  new spaces, new flooring, new restrooms, new stained glass art, added elevator, and an amazing new staff work space (with adjustable height desks, no less).  The meeting room retains our historic Belcher stained glass window, of course, as well as the fireplace and mantle, but with the addition of beautiful new wood flooring, a new drop ceiling, and the adjacent small service kitchen we asked for.
When staff moves in to prepare for the opening, if there is any role/need for volunteer assistance, they will inform us.
You should also know that when we reopen both of our professional librarians will be new to Lovett, as Children's Librarian Teresa M. Glover has elected to remain at Roxborough branch, where she has served during the hiatus.  We will miss her, and we will welcome her successor, who will work with our new Branch Manager, Marsha Stender.
Next, as you may have heard, the Free Library has hired "community organizers" to work with the renovated branches.  Mr. Fred Ginyard is working with Lovett and Logan.  He has sent us the following to share with you:
"Your Library Opens  Fall 2017.What programs and events would you like to see?  Share ideas with your library's Community Organizer: Fred Ginyard.  Ginyardf@freelibrary.org      (215) 686-5318Coming Soon:  New computers, Homework help, Family programs, Children's programs and so much more."
Please pitch in with your thoughts, and please copy us on your e-mail to Fred at <lovettfriends@gmail.com>.
Finally, another book recommendation.  "This Is What a Librarian Looks Like:  A Celebration of Libraries, Communities, and Access to Information," by Philadelphia photographer Kyle Cassidy.  Over 200 librarians of all kinds of service are photographed with blurbs of their thoughts on their chosen profession.  In one of my favorites, a librarian points out that librarians assist not in finding a needle in a haystack, but in finding the right needle in a stack of needles.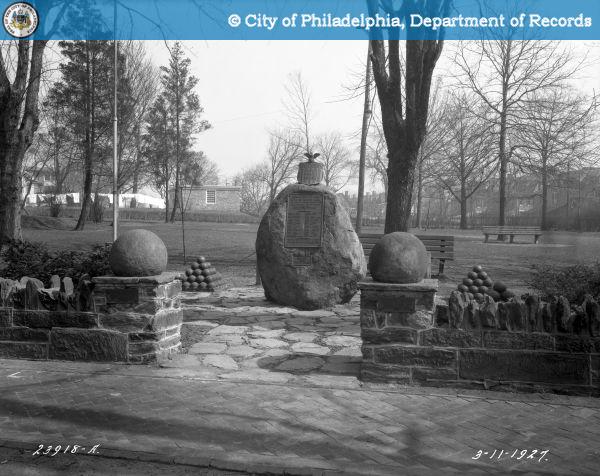 (Photo courtesy of PhillyHistory.org, a project of the Philadelphia Department of Records.)
As Memorial Day 2017 approaches, it is timely to note that the Friends of Lovett Memorial Library are working with the volunteers of the Pennsylvania World War I Centennial Committee to re-dedicate the memorial to local casualties of that conflict which Lovett erected in 1924, by creating a replica of the tablet which was stolen in the 1970s.  We hope to schedule the re-dedication in conjunction with Lovett's re-opening in the Fall, after extensive remodeling and expansion.  It would be fitting were we able to enhance the re-dedication program by including descendants of the families of the thirty-five neighbors (mostly from Mt. Airy) whose names appeared on the plaque.  As an aid to finding such family members we have researched addresses as well as we could, using contemporary newspaper accounts, conscription and enlistment forms, city directories, census records, and the like. Anyone who is a descendant of these families, or has information about them, would assist us a great deal by contacting the Friends either by e-mail <lovettfriends@gmail.com> or by calling Friends president David T. Moore at 215-247-4295.  Here is the list of names and addresses:
Marcia Maxwell Bartle, U.S.M.C. (6820 Chew Street);  Stanley H. Berry (187 Weaver Street);  Albert R. Bolay (99 Weaver Street);  John Breidenfield (37 East Tulpehocken Street);  George M. Brooks (6758 Musgrave Street);  Anthony Cimino (401 West Mt. Pleasant Avenue);  Mortimer P. Crane (6440 Greene Street);  George A. Dawson (no address located);  Herbert K. Dewees (107 East Duval Street);  James Duffy (265 East Collom Street);  Thomas B. Durrick (45 Pleasant Street);  Frank C. Erb (166 West Durham Street);  George William Esher (524 East Johnson Street);  Jacques A. Fiechter [AKA "Jacob"] (426 East Mt. Airy Avenue);  Edward Fisher (59 Good Street);  William Fleming, Jr. (433 West Mt. Pleasant Avenue);  Earl E. Horsey (112 East Pastorius Street);  Charles Joseph Houston (5644 Chew Street);  Clement Cresson Kite (7426 Boyer Street);  Harrison Knox (212 East Montana Street);  Harry Linaka (154 Meehan Street);  Edward Joseph Malone (91 Weaver Street);  Robert Joseph McCamman (341 West Mt. Airy Avenue);  William J. Merkle (6667 Germantown Avenue);  Ralph Thurman Mills (150 East Duval Street);  Clark B. Nichol (351 Pelham Road);  John Potts (207 East Phil-Ellena Street);  Alfred L. Quintard (420 West Hortter Street);  Herman P. Saylor (41 West Mt. Airy Avenue,  formerly 4349 North 15th Street);  George P. Shepherdson (49 West Mt. Airy Avenue);  Harold J. Sheppard (98 West Sharpnack Street);  William Sibel (635 Carpenter Lane);  Gerald F. Speck (218 East Gorgas Lane);  George F. Whitson (328 Slocum Street);  Jacob Zaun III (122 East Gorgas Lane).