History of Lovett Friends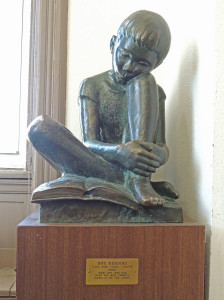 Established in 1982, the Friends of Lovett Memorial Library wrote this into our original By-Laws:
The Friends shall be a voluntary, non-profit organization of persons whose purpose it is to promote and provide for fuller utilization of all physical and cultural facilities of the Lovett Memorial Branch of the Free Library of Philadelphia by:
Promoting community knowledge of the resources, services and needs of the Branch and community involvement with the Branch and with the Friends;
Raising funds for equipment, supplies, reading material and other Branch needs;
Stimulating gifts of books, magazines, collections, endowments and bequests to the Branch and to the Friends;
Providing special programs at the Branch for children and adults of the community;
Working with other Friends groups to support the Free Library system and to enhance the quality of library service in Philadelphia.
For over three decades, members of the Lovett community have given time, talent and treasure to our library by way of the Friends. Volunteers have shelved books and tended plantings on the grounds. The history of the library has been researched and publicized. Funds have been raised, initially for an extra telephone line (rendered unnecessary in the age of e-mail), for programs, for books and materials, and for equipment ranging from shelving carts to display racks, to desktop printers, to a staff room microwave, to projection equipment, and even to rental of a "live trap" when the staff room was invaded by squirrels!
The Friends have always been in the forefront of advocating for public and private support for the Free Library of Philadelphia and its Mt. Airy branch.